Discover the transformative power of Sylfirm X RF microneedling in Las Vegas, NV, a revolutionary treatment targeting acne scars, loose facial skin, and designed to boost collagen production. At LipoSculp, board-certified physician Jennifer Gopeng, MD, MPH, and her dedicated team harness this cutting-edge skin rejuvenation technique suitable for all skin types. Together, they are committed to unveiling your skin's natural, youthful radiance and giving it a revitalized glow.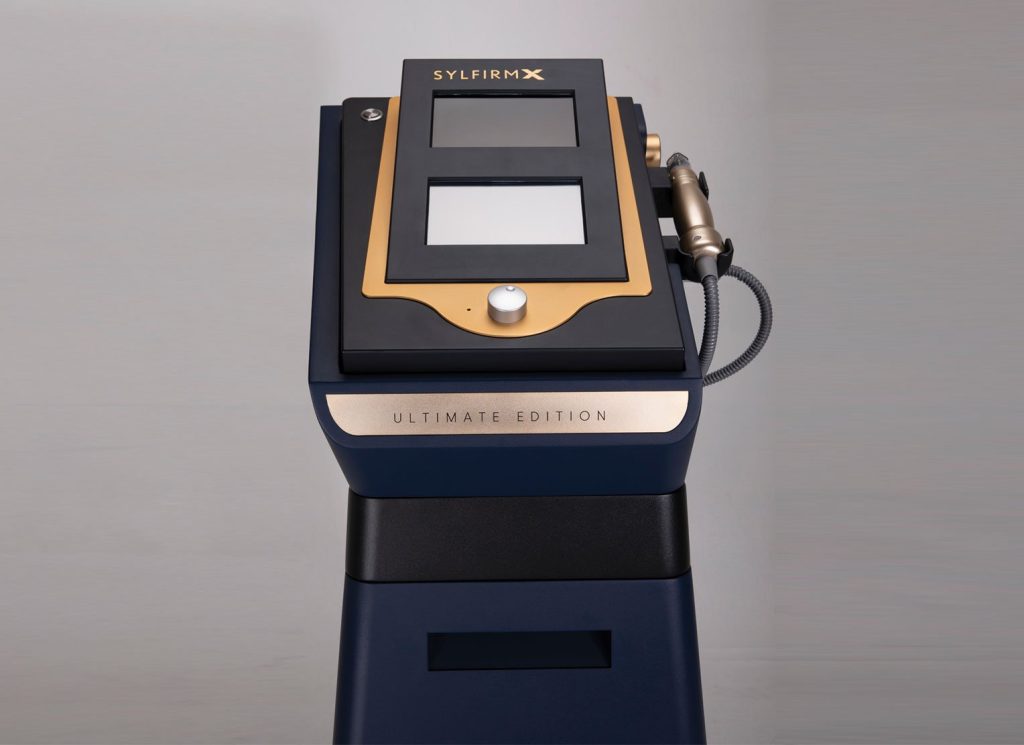 Sylfirm X RF microneedling at LipoSculp is an advanced RF microneedling treatment that harnesses the power of radiofrequency energy in tandem with tiny needles. Unlike traditional microneedling, this procedure creates tiny wounds and utilizes radiofrequency energy to heat underlying layers of the skin precisely. The process induces microtears that stimulate the growth of healthy new skin and combat common concerns like acne scars and sagging skin. While it offers the benefits of alternative treatments, it ensures the process is virtually pain-free, without the need for surgery, prolonged downtime, or significant risk of complications. This FDA-approved system stands as a breakthrough in reducing the visible signs of aging in both men and women.

What are the benefits of Sylfirm X RF microneedling?
The advantages you can expect when choosing Sylfirm X RF microneedling at LipoSculp include:
Smoother skin

Skin tightening

Reduced melasma

Reduced wrinkles

Reductions in skin pigmentation issues

Smaller pores

Improve acne scars

Better skin tone and texture

Target early signs of aging

Less skin laxity

Increased collagen and elastin production

Diminished stretch marks

Increased scalp circulation
Sylfirm X RF microneedling can treat aging skin on your face, neck, decollete, or other areas that may bother you. The treatment also stimulates hair regrowth in patients struggling with hair loss. The cutting-edge Sylfirm X RF microneedling device has more than 25 clinical studies backing its safety and effectiveness.
What happens during a Sylfirm X RF microneedling session at LipoSculp?
To ensure you achieve a youthful appearance and desired results, the LipoSculp team adopts a comprehensive approach to your SylfirmX RF microneedling session. Here's what to expect:
Personalized Consultation: Before delving into the treatment, the LipoSculp team takes the time to understand your unique needs. They'll review your symptoms, medical history, and beauty aspirations, tailoring a treatment plan that's just right for you.

Preparation: On the day of your microneedling session, the specialist prepares the targeted area. They start by thoroughly cleaning it, followed by the application of a numbing agent to ensure you remain comfortable throughout.

Microneedling Procedure: Equipped with a state-of-the-art handheld device fitted with 300 ultrafine gold microneedles, the specialist creates small punctures in your skin. As these microneedles penetrate the surface, you may feel warm sensation, a testament to the heat being delivered into the skin. This heat forms therapeutic electromagnetic fields across various skin layers, intensifying the rejuvenation process.

Post-Treatment Care: Following the microneedling, your specialist may enhance the treatment's effectiveness by applying regenerating serums. These are designed to promote skin healing further and boost the results.

Duration: The length of a Sylfirm X RF microneedling session varies based on the size and number of areas being treated. While many see significant improvement after just one treatment, touch-up sessions might be recommended to maintain and enhance the effects.
In essence, every step of the treatment is meticulously designed to provide you with a refreshed, youthful glow, ensuring your skin benefits from the best of both worlds – precision and care.
What should I expect after the procedure?
After undergoing the rf microneedling treatment, it's common to experience temporary redness and minimal discomfort immediately post-procedure. This is your skin's natural healing response in action. As the skin heals, there might be some scabbing, which is also a typical part of the recovery process.
Over the next few days, the discomfort subsides, and while the redness diminishes, it's crucial to protect your skin from direct sun exposure to avoid sun damage. This precaution aids in the healing process and ensures the results are uncompromised. As your skin progressively regenerates, it revitalizes, giving way to a more youthful and rejuvenated appearance.
Most patients can resume their normal activities shortly after the procedure, although it's always a good idea to heed any specific post-care advice provided by your specialist. Depending on your individual goals and the condition of your skin, repeat treatments might be suggested to solidify and maintain the anti-aging results. Recovery time can vary from patient to patient.
Who is a candidate for rf microneedling treatment?
RF microneedling is a versatile treatment tailored to address various skin concerns, but it's not suitable for everyone. The ideal candidate for this procedure is generally someone in good health looking to target issues such as sagging skin, acne scars or other signs of aging.
However, certain conditions and circumstances may influence your suitability for the treatment. Individuals with severe skin disease, a history of poor wound healing, or frequent outbreaks of cold sores might need to approach RF microneedling with caution. Additionally, if you're currently receiving chemotherapy or taking anticoagulants, it's crucial to disclose this to our radiofrequency microneedling specialist, as it can affect the body's response to the treatment and its healing capabilities.
What is the cost of Sylfirm X RF microneedling?
In Las Vegas, the cost for a Sylfirm X RF microneedling session typically ranges from $500 to $1,200 based on the specific area being treated and the number of sessions required to achieve desired results. Contacting our team will ensure you get an accurate quote.
Sylfirm X RF Microneedling Q&A
How does SylfirmX RF microneedling work?​

SylfirmX RF microneedling stands out as a revolutionary cosmetic procedure harnessing the power of radiofrequency waves. It employs a unique pulsed wave mode, specifically designed to address hyperactive melanogenesis, which leads to darker skin patches. This tailored use of radiofrequency energy targets and coagulates damaged skin cells, ensuring a selective approach that prioritizes overall skin health.

The beauty of this system lies in its delivery mechanism. By using evenly-leveled electrodes, it precisely directs RF energy to specific tissues, resulting in optimal treatment outcomes. Unlike traditional methods, this radiofrequency microneedling procedure creates controlled, microscopic injuries to the skin. These intentional injuries serve a dual purpose: firstly, they stimulate cell regeneration, and secondly, they promote collagen induction therapy. Essentially, this controlled injury technique kickstarts the body's natural healing process, leading to a surge in collagen production and cell renewal.

In sum, SylfirmX RF microneedling seamlessly integrates the benefits of radiofrequency energy with the proven results of microneedling, offering an advanced solution for those seeking a rejuvenated appearance.
How often do you need radiofrequency microneedling?​

The frequency for undergoing radiofrequency (RF) microneedling is often tailored to an individual's specific skin concerns and desired results. Generally, for those looking to see significant improvements in skin texture, tone, sagging skin, and elasticity, it's common to undergo a series of 3 to 4 treatments initially, with each session spaced 4 to 6 weeks apart. This spacing allows the skin adequate time to heal and generate new collagen and elastin.

After the initial series, a touch-up session is recommended to sustain and enhance the results. Maintenance sessions might be scheduled once every 6 to 12 months, depending on the individual's skin type, age, and the results they wish to maintain.
Services We Offer
Treatments & Conditions